When Maurice Wilks sketched a silhouette on the sand of a Welsh beach in 1947, he had no idea that it would become the most world's most intrepid and iconic vehicle. The legacy of the Series Land Rovers would lead to the Defender and branch off into the Discovery and Range Rover model lines. Collectively, they have inspired enthusiasts to take on new adventures.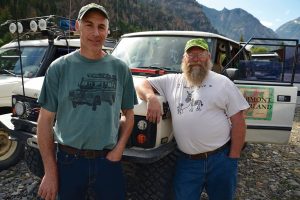 Certainly, that's the way my wife, Breck, and I feel when we get behind the wheel of my 2010 Range Rover. Our latest trek brought us to the Solihull Society's 2019 National Rally in Ouray, CO. Although I've worked as a photojournalist for overland treks before, this National Rally became my first Land Rover event — and it proved the perfect introduction.
The Colorado-based club has organized the National Rally for decades and it has become a premier destination event for enthusiasts from around the country. Rally Coordinator Larry Grubbs, Fruita, CO, Trail Master Jim Jenista, Colorado Springs, CO and Publicity Coordinator Paul Donahue, Denver, CO, greeted us and explained the schedule, routes and festivities. Enthusiasts attended from California to Virginia, Alberta to Vermont, and clearly enjoyed their three days on the trails. The routes would include famous high mountain passes with names like Imogene, Engineer, Hurricane, California, Ophir, Stony and Corkscrew — and the names said it all. You could see why Hollywood producers would choose Ouray as the location for movies such as True Grit.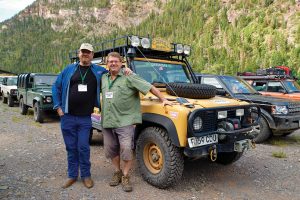 As we strolled through the "Trail Staging" area (for trails ranging from easy to difficult) we enjoyed the sights of the Discoverys, Defenders and handful of Series Land Rovers. One of the many caught our eyes as the driver lined up for Ophir Pass to Last Dollar Road trail ride. I mean, how often do you see a Land Rover fire truck — and on a trail, no less? Mark and Renee Freeman, Sedalia, MO, shared a great story of how they sourced their Land Rover.
Mark, now in his 60s, began his Land Rover enthusiasm in his teens. He said, "I recently acquired the vehicle from the president of the Czech Republic Land Rover Club after meeting him on Facebook. We developed a trust in each other, negotiated a price and I wired him the money. I had it shipped to the US sight unseen. It's a '66 Forward Control Series IIA that was one of six sold to Konrad Rosenbauer AG in Austria for conversion into fire trucks. From 1966-1999, it was in service in St. Johann Tirol, Austria." During the event, the FC 109" impressed us as we rode with the Freemans through Porphyry Gulch, and later while tackling Ophir, Stony Pass and Last Dollar Roads.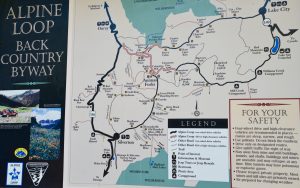 It's not their first rodeo in Land Rovers, either. Mark and Renee met in college while studying archaeology. He purchased a '74 Series IIA 109" during his studies. Renee said her first vehicle was a Series III Land Rover, which she still owns.
Colorado endured an epic snowfall during the 2018-19 winter that contributed to major avalanches statewide. Consequently, the deeps snowbanks and avalanche destruction in the San Juans forced the closure of several popular high-altitude passes. Thayer Cook, Arvada, CO, said, "I led a group towards Imogene Pass until we ran into a place where an avalanche had blocked access. Our detour around it took us to a beautiful lake and the remains of a mining camp. We still had a good time."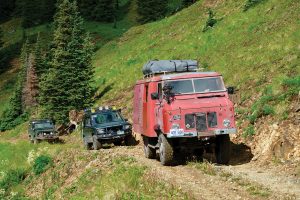 One of our favorites remained open, so we jumped at the chance to join Tom Cryer, Denver, CO, in his '13 LR4, and a group of eight Land Rovers over the 6.8 miles through the aptly-named Corkscrew Gulch. We traveled over a twisty, sometimes slippery route to an elevation of 12,244 ft. Our arrival at the summit provided a 360-degree view of the San Juan Mountain Range, with the Red Mountains being the most prominent. Once we satiated our eyes, we headed east on the Alpine Loop towards Hurricane Pass and enjoyed lunch along the shore of Lake Como.
On a trail ride to Porphyry Gulch, we came across Jacob Silberfarb, Orange County, CA, and his '03 Discovery II G4. At age 18, he sought a new outlet to replace his affection for video games all day. "I was looking to get into off-roading and found this G4 on Craigslist, not far from my home." For his first serious venture off-road, admittedly inexperienced, he chose Moab and tackled its sphincter-clenching Hell's Revenge. "I nearly died," he told us; we're still uncertain if he was joking.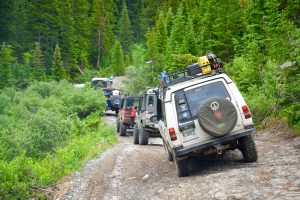 Buoyed by his Moab experience, Jacob signed up for his first National Rally, and drove nearly 2,000 miles round trip with his dog, Sophie. While at the event, he conquered Ophir, sections of the blocked Imogene Pass, Corkscrew, California Gulch and Last Dollar Road. Halfway through the event, his father, Dave, flew in the join him on the trails. "Jacob cracked his shell when he bought the Discovery," Dave said. "Prior to this, he was glued to his computer, playing games all the time. Now he's out off-roading, planning trips and has actually served as a trail leader on a 10-vehicle convoy to Death Valley. It's been great for his personal growth. I never thought my somewhat geeky son would know what a driveshaft was, how to lube it, and to diagnose issues with his Land Rover." (Since the event, Dave purchased his own Discovery II G4 and father and son have planned new adventures.)
Trail leader Jim Jenista did a fine job guiding our group of nine Land Rovers up the scenic Porphyry Gulch. This best-kept secret trail zigzags through pine forest on a narrow route with multiple switchbacks. It climbs 3,000 feet in three miles and ends at an old mine site from which we enjoyed awesome views of the Uncompahgre Range of the San Juan Mountains.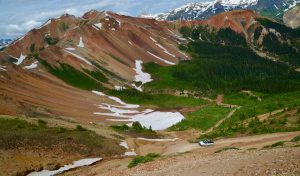 During an ascent along a narrow shelf trail we met 17-year-old Lily Anderson, St. Paul, MN, at the wheel of her father's '97 Defender 90 —while her brother Luke held on for dear life. Lily told us, "This was the first vehicle I learned how to drive." We marveled at how well she negotiated a challenging section of the trail that had experienced drivers cringing. During the same trail ride, we met another "gopher," 17-year-old Marcus Wright of Minneapolis, MN. His own '03 Discovery II came to him when his father decided they should go look at a puppy. "We showed up on a dude's farm and this Land Rover was sitting there. My Dad's like, 'I'll go 50/50 with you to buy it,' and I said, 'Sure, let's go for it!' That's what started me wheelin," he noted. The Land Rover world might see more of Marcus in the future, as he now works at Expedition Autoworks in St. Louis Park, MN.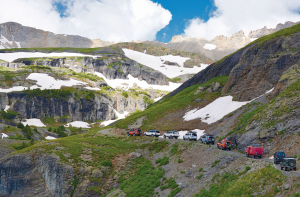 That evening, we joined the nearly 100 other participants at the KJ Wood Distillery in Ouray featuring craft spirits, a catered dinner, live music, tall tales and substantial camaraderie. We rolled out of bed the next morning to enjoy the "Show and Shine" and admire the Land Rovers at the event. Given the driving conditions and the kitted-out vehicles, there was plenty of show and less shine. The vehicles each had a story with quirks attributed, but they had to compete with their owners and their personalities. John Vallerand, Greene, ME and Mike Cappoza, Scarborough, ME, flew out for their first National Rally. Mike has completed several restorations of his personal Land Rovers, and they're the envy of New England enthusiasts. John grew up on a Land Rover farm in the 1960s, under the tutelage of his father, Bill, and has since traveled with family and friends to Land Rover events in the US and Canada. He's owned over 80 Land Rovers during these decades, and now has begun the arduous task of disassembling the dilapidated examples to make NLA parts available for future generations of Land Rover enthusiasts. "I'm old school," John said, "and my goal is to help keep as many of these historic vehicles on the road, giving folks years of their own enjoyment."
At rallies like the Solihull Society's National Rally, we'll likely meet as many new enthusiasts as event veterans. For 2020, the Solihull Society and the Arizona Rovers are planning a joint event next September. Combine the wonders of the Colorado landscape with the extraordinary personalities of Land Rover enthusiasts and you will experience a captivating event.
Solihull Society
A Denver based club named after the birthplace of the Land Rover
The Solihull Society, founded in 1989 in Colorado Springs, is committed to the enjoyment, sharing of goodwill and fellowship created by owning a Land Rover or other four-wheel-drive vehicle.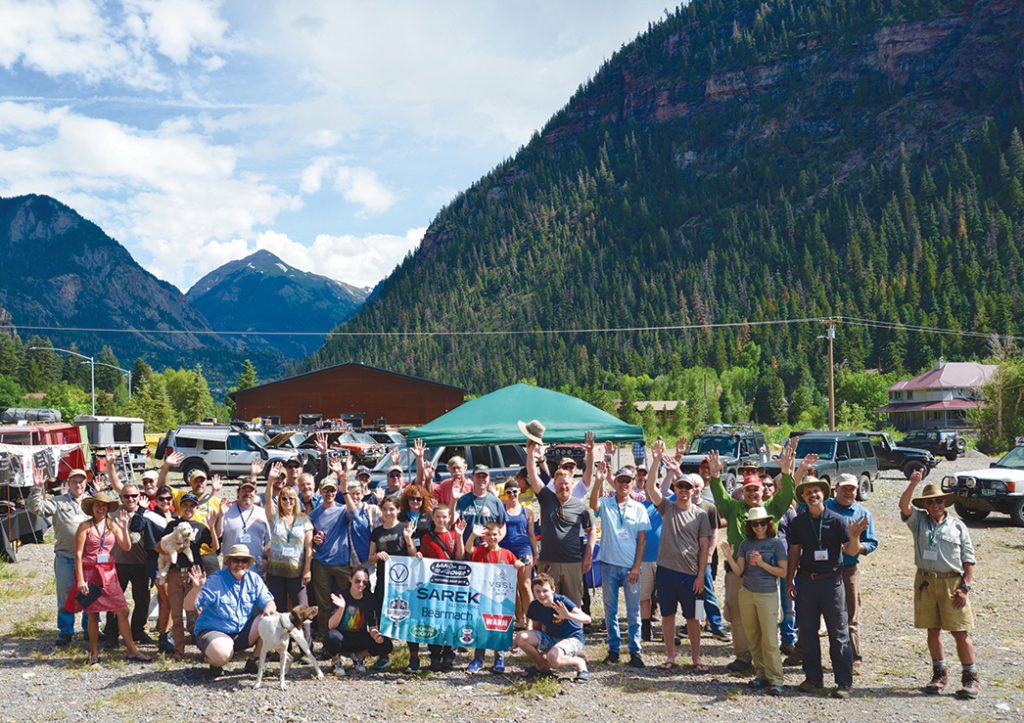 The club is overseen by an Executive Committee that engages in social, educational activities that adhere to the Tread Lightly principles. Membership to the club is open the all Rover enthusiasts, whether you own one of the vehicles or not.
In 1991, the Solihull Society approached Kerry Oldham and Bill Davis, founders of the US National Land Rover Rally, expressing interest in assisting with the event. The following year, the handoff was officially made and the first Solihull Society National Land Rover Rally was launched in Ouray and Telluride Colorado to coincide with the NAS Defender 110.
The club has since hosted events for 27 consecutive years throughout the western US at locations chosen for scenic beauty, available facilities along with a variety of interesting and challenging