David E. Davis of Car and Driver once wrote of "perfectly reasonable people who take leave of their senses on first meeting a Land Rover," in this case, a '64 Series IIA 109" Station Wagon. A passenger bouncing around in the rear, working off a hangover, said, "I've never been so miserable in my life. Wouldn't it be a ball to own one of these things?"
Davis concludes that the Land Rover "is less a car than a state of mind. Its owners are the most partisan group imaginable and its would-be owners are legion."
The "partisan group" comprises enthusiasts worldwide, who have been asked to recite Land Rover's script that says the Defender should continue its 70-year model history of the Series Land Rovers and the 90/110s. North American enthusiasts have been unable to buy a new Defender for 22 years, and nothing would please hard-core enthusiasts more than a revival of the last 1997 model: V8 power with 15 mpg, automatic 4-speed transmission (but preferably with a manual shift option), box section frame, a bolt together body and general field repairability. They accept the noise, drafty interior, flapping door tops, occasional water leaks, absence of airbags and contemporary driver's aids. As a Series IIA enthusiast and daily driver, I'm a partisan.
But Land Rover believes that it needs the "legion of would-be owners" to purchase Defenders, and thus, it must design and manufacture a Defender that can be sold in every world market. That means a new Defender must meet regulations in place today, as well as those anticipated in the future. In addition to CAFE fuel economy averages, emission regulations, and active and passive safety regulations, Land Rover must include contemporary market expectations for NHV (noise, harshness, vibration), connectivity, infotainment, comfort, on-road speed and handling, accessibility and stowage capacity.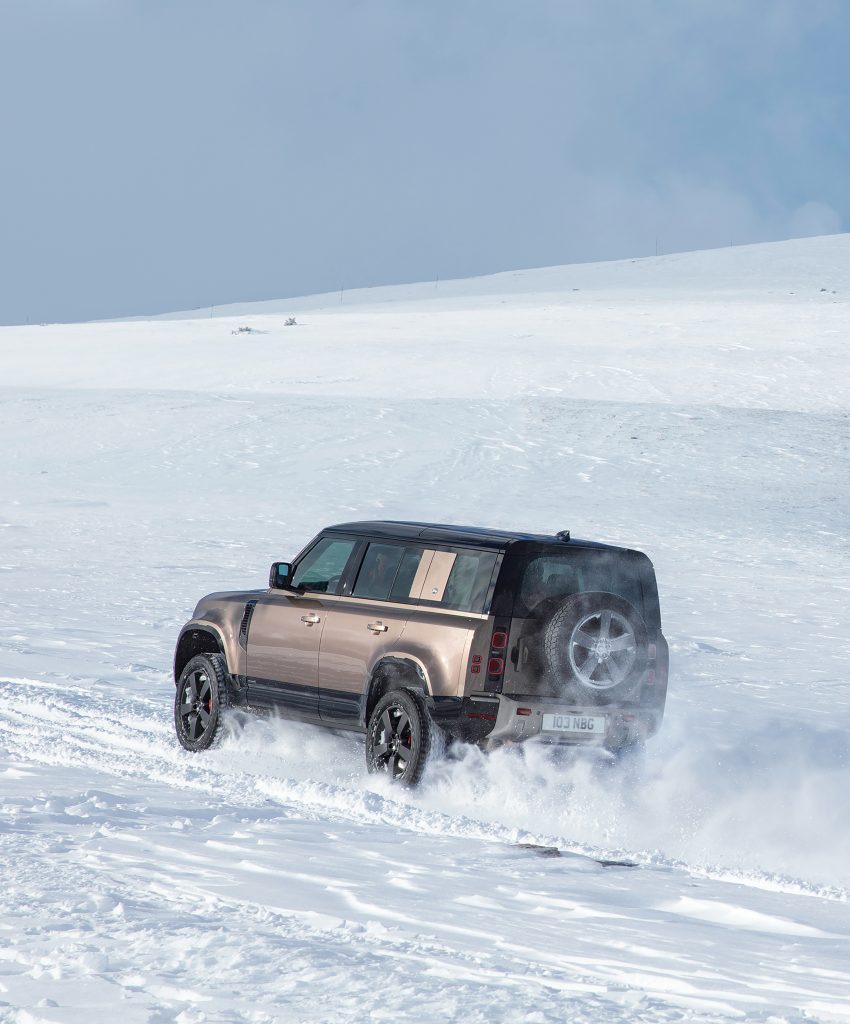 The North American market holds the key to Land Rover's success in the contemporary vehicle environment and Land Rover believes the new Defender will lure new customers, or "conquests," into the fold. Meeting the expectations of marque enthusiasts, while substantially increasing the number of Defender owners, likely explains why JLR needed an additional three years between the end of the original Defender and the introduction of reborn Defender.
JLR unveiled the 2020 Defender at the Frankfurt Auto Show in September, and will introduce it in North America at the Los Angeles Auto Show in November. In advance of driving and living with one, here's an analysis based on information available at press time:
Exterior Design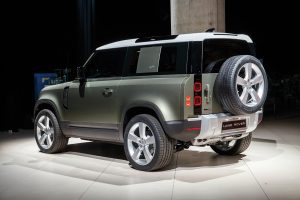 A 1969 advertisement places a Series I side by side with a Series IIA. The headline asks, "If it's so great, why do we keep changing it?" The ad copy answers with, "We have continually developed it to meet the different needs of customers all over the world." These, of course, have changed over the decades.
Design Chief Officer Gerry McGovern stated, "This is a new Defender for a New Age… The overall impression is of an elemental design, yet this clean, reductive approach is underpinned by sophisticated surface of the highest quality." McGovern believes that the front and rear ends of the Defender carry the hallmarks of the previous Defenders, albeit with contemporary headlamps and taillights. Land Rover's press release claims, "Every detail of the exterior design has been creatively developed to reinforce the DNA of the Defender model — sophisticated, durable and extremely tough, a vehicle design like no other." Massimo Frascella, Land Rover's Creative Design Director, said, "Nothing comes close to redesigning the last automotive icon. The new Defender is a manifestation of our modernist design philosophy — elemental, yet incredibly sophisticated."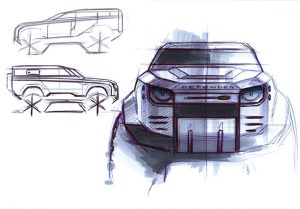 Design touches like the alpine windows, spare tire bolted to the upright side opening rear door, minimal front and rear overhangs, all signal "Defender". While you will contend with choosing from 12 different alloy wheel styles, ranging from 18-22 inches, at least one of them is a white steel wheel. You'll have seven body colors to choose from, as well as a removable, "satin protective film" for metallic colors that will offer significant protection, as well as making paint repairs easier.
For everyone who thought Tom Barton and David Bache got it right in 1958, and again in 1984, with the 90/110, the new Defender didn't require a "sophisticated modernist design." After all, the runout special editions from 2016 sold out quickly.
If you've lived in a place where the Defender and its ancestors were sold since 1948, you might relish a change. In the USA, unless you live and breathe Land Rover, you might only vaguely remember what the last new 1997 Defender looked like, and you might wonder why Land Rover would try to sell you the same vehicle as 22 years ago.
Chassis and Suspension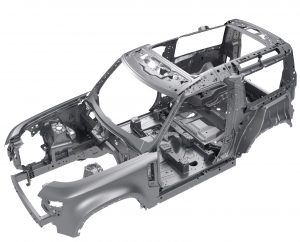 Say good-bye to the immense box-section, steel ladder frame, onto which workers bolted on a rear tub and body panels in numerous configurations. It's been replaced by the all-aluminum D7x platform, a unique one that shares no body-in-white panels with any other Land Rover model. JLR states that it's three times more rigid than the familiar body-on-frame design — important for longevity, durability and handling at today's average speeds. The platform can accommodate not only the announced 110 and 90 configurations, but the anticipated 130 model, too. It can also account for the crush zones needed to meet safety regulations in world markets.
The D7x platform can also enable Land Rover to offer multiple engine and drivetrain configurations — likely more in the future than what will be offered initially [see p. ____]. Future regulations will likely insist on electric-only drive, and this new platform will adapt readily.
Bid adieu to the solid beam front/rear axle, coil spring with great articulation, too. They've been replaced with independent suspension front and rear: short lower arm with double wishbone twin lower links up front, and integral link in the rear. The combination will surely improve ride and handling on-road. Off-road, Land Rover has turned to its proven and now configurable Terrain Response system, a twin-speed transfer box, locking center differential and active rear and locking differential to assure extraordinary off-road capability.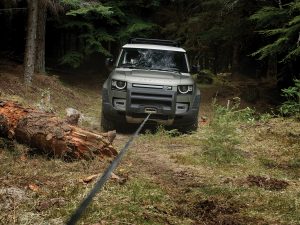 Approach, departure and breakover remain impressive for all but the most extreme off-roading, but they also reflect the reality of independent suspension designs. The 2020 Defender has an approach angle of 38.0 degrees [vs. 51 degrees on the NAS Defender], but a departure angle of 40 degrees [vs. 35 degrees] and a breakover angle of 31 degrees [vs. 34 degrees]. Ground clearance in off-road height on the 2020 Defender will be 11.5 inches [vs. 12.7]. The wading depth, however, increases to 35.4 inches [vs. 20 inches]. The maximum ascent climbing angle remains that same at 45 degrees, the same as the side slope angle.
The 2020 Defender has grown in length and width. The actual wheelbase of the 90 is 101.9 inches, and the 110 is 119 inches. Overall length of the 90 has grown from 157.1 inches to 170.2, and width, from 70.5 to 78.6 inches, making the off-road approach/departure angles more intriguing.
The previous Defenders featured a hydraulic power-assist worm and roller steering. While it provided the strength and tactility important for off-road work, it also required a 40 ft. turning circle (90) or a 47 ft. turning circle (110). The new Defender, with its lighter and more efficient electronic power-assisted rack and pinon steering, should give a more positive response and reduces the turning circle to 37 ft. (90) and 42 ft. (110).
The brakes remain discs all around, but their size has increased from 11.75 to 14.3. This reflects the changes in the driving environment as well as the increased top speed from a wishful-thinking 90 mph (original Defender) to 129 mph.
Interior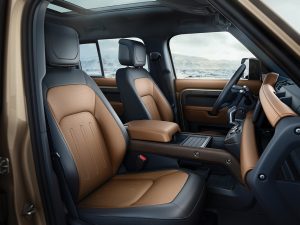 Back in the day, there was nothing like a Defender cockpit to remind you sit up straight and keep your weight in check. The NAS Defender interior felt "comfortable" only if you'd just stepped out of a Series IIA.
Land Rover Experience Instructor Bill Marinaro drives an NAS Defender often at the school and to Land Rover events. "It's cramped and uncomfortable," he told me, "with a small footwell that forces my legs at an awkward angle. It's fatiguing on a long trip, quite noisy and uncomfortable. When I yearn to buy back my former '95 NAS Defender, I remember how badly mine leaked, and how much snow snuck past the windows. A trip in the LRE Defender brings me back to reality." [I know he still wants his old one back -ed.]
For better or worse, contemporary expectations for the interior of a vehicle have changed substantially. Land Rover had to balance the needs for comfort, connectivity and safety with those of functionality. Step into the new Defender and you'll immediately notice a structural magnesium beam, complete with built-in grab handles, straddling the interior. Your feet rest upon a rubberized-surface floor, so you needn't worry about tracking in mud and washing it out later.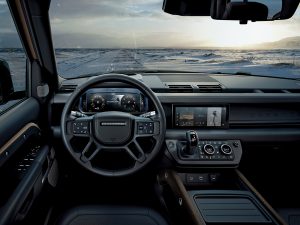 The new Defender's entire interior is wider. The front seat mimics the layout of the three-squab bench seat of the Series II-III, with a foldable "jump seat" in the center position. Seat material choices range from rugged woven textiles to cosseting leather. North America will see the Defender 110 first, which features seating packages for 5 or 6, with an optional 5 + 2. The Defender 90 will have seating for 6.
The NAS Defender fascia borrowed heavily from the Series III, and clustered every gauge and toggle switch in an ergonomic mishmash that forced you to look down at your knees to retrieve information or engage a switch. The new Defender's interior strikes a high note in functionality and appearance, with a choice of handsome veneers highlighting the exposed metal parts. Amy Frascella and her interior design team needed to create an environment that you can live with all day, every day, without apology.
Anna Imm, our correspondent in Frankfurt (and a Series owner), texted me from the Frankfurt Auto Show reveal saying, "I sat inside the new Defender. I have to say, it is really cool! Yes, it's new and modern, but with many typical Defender touches. It still felt like a Defender inside."
Drivetrain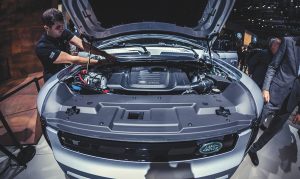 The last NAS Defender of 1997 came with one engine option, a 182 hp, 232 ft lbs of torque, 4.0 L V8. It delivered its power through a 4-speed ZF automatic transmission. The 2-speed LT 230 transfer case featured a manually locking center differential. With a curb weight of 3,560 [soft top] or 3,913 lbs [Station Wagon], your 15.6-gallon fuel tank would deliver 14-15 mpg.
The new Defender offers two engine options on the Defender 110: an inline 2.0 L turbocharged 4-cylinder gas engine, producing 296 hp with 295 ft lbs of torque, or an MHEV inline 6-cylinder 3.0 L producing 395 hp and 406 ft lbs of torque. When the Defender 90 reaches our shores — as of press time —it will have the same engine options. Also as of press time, there's no diesel option announced for the North American market and no EPA mileage rating.
The transmission on every Defender will be a ZF 8-speed, with a 2-speed transfer case and permanent 4-wheel drive. Sadly, there will not be a manual shift option on any North American or ROW Defender.
Factory Personalization Packages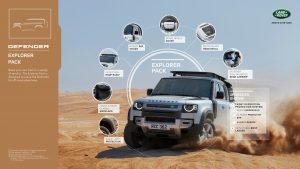 The NAS Defender came in three models: a 110 Station Wagon (1993 only), a soft-top 90 with a fiberglass top option, or a 90 hardtop Station Wagon. Options included winches, brush bars, lamp guards, chequer plate for the fenders, an AM-FM cassette radio or a CD changer and radio.
The new Defender will come in four "Accessory Packs". The Explorer Pack will have a roof rack and exterior gear carriers. The Adventure Pack adds a pressurized portable rinse system, an integrated air compressor and a detachable seat backpack. The Country Pack adds a wheel arch protection and scuff plates. If your adventures center more on urban or suburban life, there's an Urban pack for you.
Whichever pack you choose as a starting point, an integrated front bumper winch provides a 10,000 lb winch with 131 ft. of synthetic line. A factory raised air intake will also be available.
Driver's Aids and Connectivity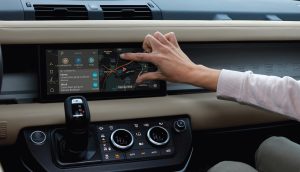 Like any contemporary vehicle, the Defender features all the navigation, infotainment, driver's aids and online capability expected today. Emergency braking, adaptive cruise control, rear pre-collision monitor, rear traffic monitor, all linked to chassis controls, will help enthusiasts cope with on-road traffic.
Off-road, the 360-degree cameras also provide a Wade Sensing and ClearSight Ground View (transparent hood view) to assist drivers with water crossings and assessing terrain at the crest of a hill.
Wireless device charging as well as charging ports, Apple Car Play and Android Auto for intuitive smartphone integration, all come standard. The touchscreen's operation becomes easier as features require fewer steps than in previous systems. You can also order a heads-up display to reduced driver distraction.
Pricing:
The '97 NAS Defender had a list price of $34,000 [soft top], $37,000 [Station Wagon] and $40,000 for the LE Station Wagon. The 2020 Defender 110 will start at $50,000; adjusted for inflation over the 22 years and — gulp — the pricing strategy remains consistently premium. That will be fine for some, a challenge for other enthusiasts.
Reactions From Around The World
Kim McCullough, JLRNA Vice-President: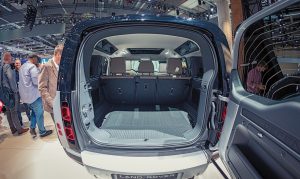 "The Defender is the spiritual heart of Land Rover. The Range Rover and Discovery families represent two legs of the Land Rover stool, and the Defender family will become the third leg. We've been missing something, so it's great to have the Defender back!"
"My husband and I own and love our Series I — we were out in it recently — but we realize it could not be our everyday vehicle. With the Defender finally back, Land Rover will offer the perfect choice to draw in new enthusiasts, as well as meeting the demands of long time enthusiasts.
Andy Vine, Land Rover Louisville, Head of Land Rover Dealer Council: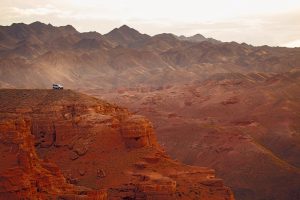 "It is one of the most exciting products since the Range Rover Sport and '13 Range Rover. It will appeal to a market that we've been absent from for a while. The different models, the Defender 110, and later, the 90 and 130, will allow us to compete effectively."
"The Defender 110 will speak to a bigger consumer segment, and happily, the Defender 90 will be only about 6 months behind. The US market should see the Defender 90 Commercial, too."
"The shot in the arm will be the 130, which will come much later, but the extra length will provide even greater carrying capacity. There's a definite excitement around the possibility of a 130 Quad Cab pickup; nothing is approved yet for the US market, but we'll keep watch."
Vicky Turner, UK Correspondent for Rovers Magazine, Tenbury Wells, Lincolnshire, UK, (Series Carawagon owner/enthusiast):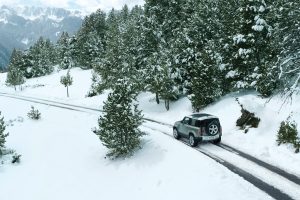 "It's been a long time coming! I've not seen another vehicle launch covered so extensively on the national news. It's in the Times, the BBC, and on all the telly channels! As for its design, the haters are going to hate because they don't see it as unique; they fear it's a sellout to the 'posh mum' market."
"As a single mother of two, I am excited that there's a Defender with all the contemporary safety and comfort features. I drive 25,000-30,000 miles a year and need a vehicle oriented to my real life. I really like the 90 Commercial model. It could become my next vehicle if I can afford one!"
"I'm surprised that there's not an electric-powered version for the launch — that would have made quite a statement. You can design your own online and plenty of enthusiasts have gone out to order a new Defender. I think it's a contender against the other luxury SUVs. It's still associated with being British — which is Interesting in the midst of Brexit."
Marie Hoffman, Land Rover Luxembourg: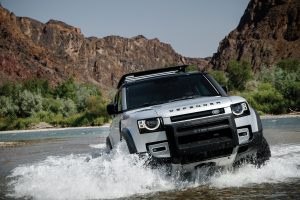 "To me, the Defender is a true automotive legend; I'm a big fan! The mission for Land Rover has been to keep the spirit of the Defender, while bringing more comfort and new technologies. With that in mind, we took 60 enthusiasts from Luxembourg to Frankfurt to see the reveal of the new Defender. We took orders immediately after the show!"
4xFar, Presented by Land Rover
Land Rover will celebrate the return of the Defender by throwing a party — the 4xFAR festival, January 18-19, 2020, at the Empire Garden Oasis in Coachella Valley in Southern California.
"It's 22 years in the making," said Kim McCullough, Vice President, Marketing, Jaguar Land Rover North America, referring to the new Defender, and the festival's mix of live music, culinary, adventure and lifestyle experiences.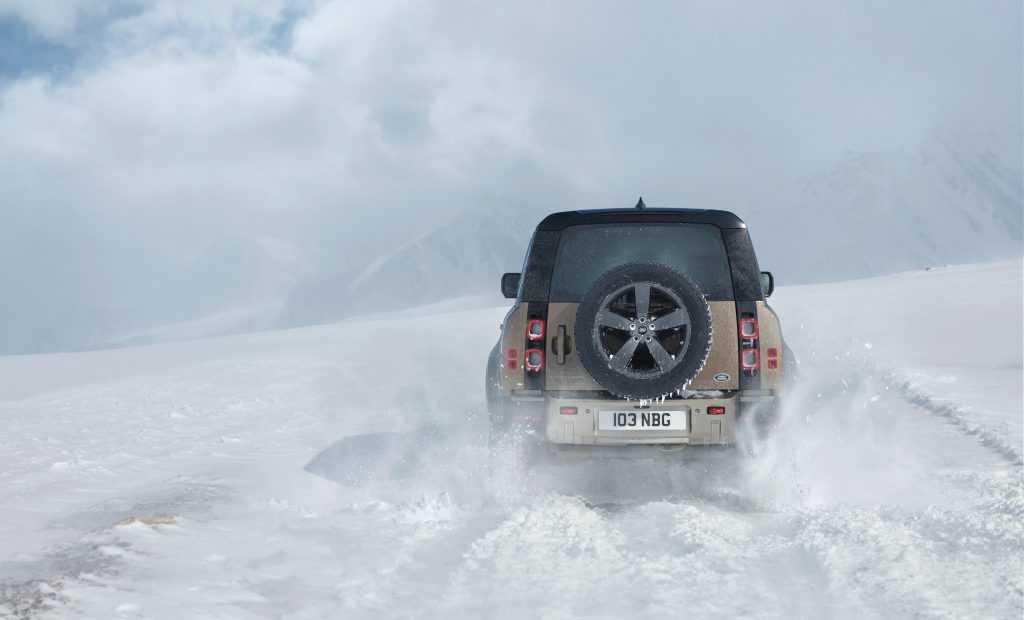 This will be the first opportunity for enthusiasts to experience the 2020 Defender, as well as the entire range of Land Rover vehicles, on an off-road demonstration course.
In recognition of Land Rover's past, present and future, the 4xFAR will also include special displays of heritage vehicles from Land Rover's storied history. There will be designated parking for members of Land Rover clubs who make the trek to the Coachella Valley.
For tickets and more information, visit 4xFAR.com.