Jen Rogers of the Door County (WI) Visitor's Bureau considers her region "The Cape Cod of the Midwest." The peninsula incorporates 19 towns and villages that jut out into Lake Michigan, and thus, their appropriation of the Massachusetts name. With 300 miles of shoreline and 11 lighthouses, Door County is a popular vacation spot for visitors from Chicago, Milwaukee, Madison, Green Bay and beyond.
When Jen determined that she needed an eye-catching photo on a 2018 publication, her colleague, Laura Bradley, turned to the Land Rovers owned by her neighbor, Shannon Shanks. "The photo shoot was a lot of fun," Shannon recounted in a phone interview. "I'd never done anything like that before."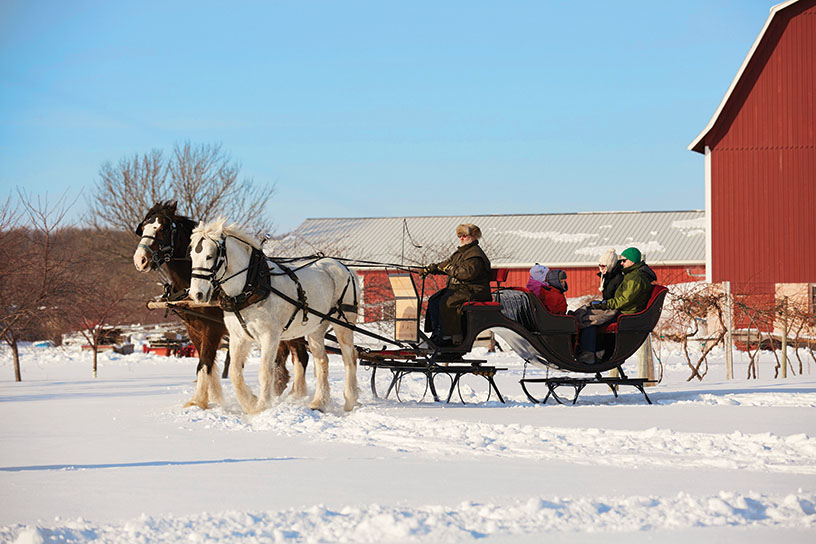 Shannon, a water system engineer, and his wife, Kait, a journalist with the Peninsula Pulse, live in Baileys Harbor, WI, with four Land Rovers: a '67 Series IIA 88" Station Wagon ("Landy"), a '73 Series III canvas top ("Softtop"), an '04 Discovery II ("Disco") and a yet-to-be-named '13 LR4. He bought the Station Wagon in 2001, the Discovery II around 2013, the Series III in 2017, and the LR4 last year. "They certainly keep me busy," Shannon said.
The appeal of the Land Rover rests with its "history and style. Once I got one, it became part of our life and I wanted more. They're all relatively simple to work on and definitely wonderful to own."
Jen Rogers invites Rovers Magazine readers to visit and enjoy her stunning region at any season. We find the inclusion of the Land Rover to be Fabulously British. Two years ago, Architectural Digest called Baileys Harbor "The Prettiest Town in Wisconsin"; if you find yourself there, be on the lookout for the Land Rovers and make certain to wave at Shannon and Kait.
[Thanks to reader Ryan Lynch, Hudson, WI, for the lead. For more information on Door County, WI, visit www.doorcountry.com]