I recently met with Alan Koslowski, the Rovers North warehouse manager, to catch a glimpse into the inner workings of Rovers North. Alan oversees all of the warehouse shipping and receiving, from UPS and FedEx to tractor-trailer freight.
With shipping supply chains off-kilter due to the pandemic, driver shortages, and rising shipping costs, Alan's work is crucial in keeping shipping charges as low as possible while making sure that each part is packed, crated, and shipped correctly, so each item reaches its destination undamaged and on time.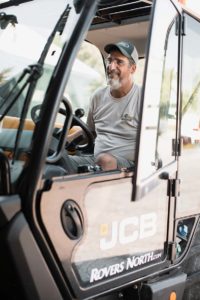 Alan's appreciation for his team was apparent when I asked him to tell me about a bigger-than-expected delivery that had just arrived.
"When it's a little more complicated like that, then we just kind of battle through it. We've got a good group of guys that really step up. Everybody collaborates. Lots of ideas that come together so we can unload everything safely."
Alan has been working for Rovers North for about eight years, having stepped into the role of Warehouse Manager about two years ago when Steven "Nelly" Nelson retired. ""Nelly" was with Rovers North for 20 years," said Bridget Bailey, the Rovers North Administrative Contact, "and although we could never replace him, Alan has done a fantastic job of stepping into the position, organizing and motivating the Warehouse team in both pick/pack and in truck freight, and has worked diligently to make sure our shipping and handling costs are as minimized as possible, which in turn allows us to pass those savings along to our customers and minimize increases as the market value of every aspect rises."
I asked Alan about the transition to his new role. "When Andrea and Mark approached me, I was like, absolutely!" he replied. "I went from working with about 350 people at my other job down to about 30." He chuckled. "The personalities here, from the team members and the owners, are out here with one goal. When you come into a company like this, and when you see that the people who built it are right in the front of it all, working it and not just sitting up in an office, you respect the people you work for a lot more. This is not just a team, its really like a family, and that's how people treat each other here."
"Andrea and Mark encouraged me to stretch my capabilities and trusted me with significant responsibilities. I really appreciate working for them; when you wake up in the morning and you look forward to coming to work, that's a big deal."
"It's kind of funny, I was never really an automotive kind of person" he added. "I'm more of a hands-on, hammer and screwdriver kind of guy." He laughed. "With all the parts we handle I'm definitely learning a lot, which I enjoy. I used to do chocolate. So I went from chocolate to Land Rovers. Definitely a big difference!"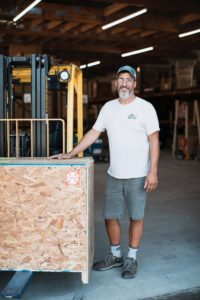 Alan's hands-on capabilities are evident in his overseeing of all the careful packing and crating that must be done before each part ships to its new owner. Some items require the building of a special crate to make sure they arrive safely and undamaged.
"When it comes to warehousing, the key is having good control of the parts, inventorying the parts, proper warehousing of the parts. And just movement – making it flow, right from picking to packing, to your packing materials, to go right out the door. You want to make sure that your customers are satisfied. You can't just sit there and say, we have this part, but when you go to its stocking location, it's not there. So, inventory control."
As we are chatting, two of the Rovers North dogs come racing into the room, barking and playing. Alan adds, laughing, "And dog control."
The dogs are definitely part of the Rovers family.
I asked Alan if he drives a Rover. "I would like one!" he smiled. "It's down the road. I mean, when you see some of the ones pulling in here from some of the customers, you're like wow. I'd like to have that in my driveway!" We both laugh. "Yeah, it's in the forecast. And then we've got them all parked out back too." I couldn't agree more: it's fun to look at the parking lot!
I wondered if there was anything Alan would want the Rovers Magazine readership to know about.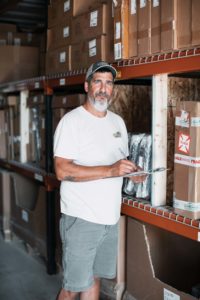 "I think, for them to realize that it's our goal to make sure they get their parts in a timely manner. That we're trying."
"When I listen to some of the sales guys here on the phone, it's just like I said, they care. They do their best. Here, if you call in and order, or you have a question, you're going to get the same person over and over," Alan noted. "And if they're out that day, you'll get somebody just as qualified, and the knowledge is right there. They build a relationship."
I asked about his vision for the next five years. "Wow. That's a tough one." He replied. "From my perspective, I think we want to work on perfecting what we have. Things are working well, but there's always room for improvement. Just looking around and asking, what could we do better?"
When I asked Alan about what he does every day, his face brightened into a wide smile. "I just try to keep the atmosphere good and keep the flow going. Communicate with the employees and be open to their ideas too. That's important. They're the ones doing the work!"
"There's a good understanding that everyone is recognized for the good job they do, so we let them know we're doing the best we can today, and tomorrow is another day."