On June 5, 2022, the United Kingdom celebrated the 70 years of Queen Elizabeth's reign by throwing a Platinum Jubilee Pageant around Buckingham Palace in London. Few events could have been more Fabulously British.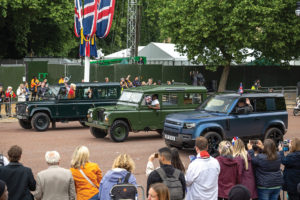 Leading the parade of 26 Land Rover and Jaguar vehicles was the very first Land Rover (SNX 910) that debuted at the Amsterdam Motor Show in April, 1948. It was joined by one owned by Spencer Wilks, of Land Rover's founding family, an eminent collection of Series and Defenders (classic and new) and, of course, the Queen's own Land Rovers.
Chris Thorp, Chief of Staff, JLR, said that "It is a true honour for our vehicles to play a part in this momentous occasion to mark Her Majesty's Platinum Jubilee… The Queen is a remarkable role model and we were delighted to celebrate with her." Land Rover received its first Royal Warrant in 1951 from Queen Elizabeth's father, King George VI, who had tried one of the company's very early models in prototype form. Regarded as a British icon, Jaguar Land Rover continues to hold the Royal Warrant as "Manufacturers of Motor Vehicles, By Appointment."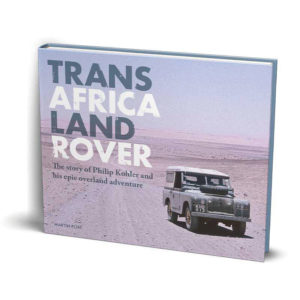 Since we did not receive a Royal Invitation, we had to satisfy ourselves through online viewing of the Jubilee while diving deep into the Africa-based adventures of Philip Kohler, recounted in Martin Port's brilliant book, Trans Africa Land Rover (Porter Press, 2022).
The adventure not only provided new experiences, it also shaped the rest of Philip's professional life, including his photography journals, resulting in a hugely successful career in the international film industry. The period photographs dazzle with their authenticity, and Martin Port tells the story brilliantly.
Land Rovers have long been the go-to vehicles for change – in landscapes as well as personal lives – and remain, in our eyes, Fabulously British.
[To order your copy, check in with Rovers North for availability -ed.]