There was no one more "Fabulously British" than Queen Elizabeth II. She embodied the qualities of service, honor, intelligence, and grace that characterize the spirit of the nation.
Jaguar Land Rover stated, "Our relationship with The Queen has been a source of great pride for all of us. The passing of Her Majesty the Queen has left everybody deeply saddened, and our thoughts and condolences are with the Royal Family at this time."
"As the UK's longest reigning monarch, Head of the Commonwealth, Patron of more than 600 charities as well as a mother, grandmother and great grandmother, The Queen was a remarkable role model."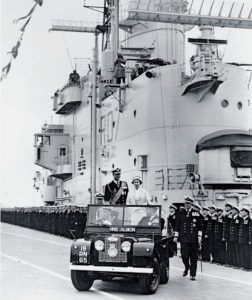 "Most recently, it was a great honor for us to play a role in Her Majesty's Platinum Jubilee celebrations, marking her historic and extraordinary reign. This was just one of many memories we are truly grateful for as part of our long-standing and continued connection with the Royal Family, and we shall deeply miss Her Majesty's pioneering leadership and strength that provided this country with continuity, stability, and inspiration through decades of enormous social change."
Rebecca Mead, in The New Yorker, wrote, "She became monarch in the early hours of February 6, 1952 – although, famously, she remained unaware of her transmutation for several hours. King George VI died in his sleep as Elizabeth, his eldest daughter, was more than four thousand miles away, on a safari holiday in Kenya. 'She became Queen while in a perch in a tree in Africa, watching the rhinoceros come down to the pool to drink,' Harold Nicolson, the diplomat, and politician wrote in his diary. A member of the royal party later recollected an auspicious occurrence: around sunrise, an eagle had soared over Elizabeth's head at roughly the moment when the King died."
At Rovers North, we remember that Queen Elizabeth drove her Land Rovers as their designers and engineers intended and that she seemed genuinely delighted when she could sit behind the steering wheel of her Series and Defenders. Her spirit and her example will be missed deeply.